Cupcake of Womanhood
This is a lesson/reflection from http://www.juliabettencourt.com/dev/cupcakedev.html.
My mentor together with the young professionals of the church gathered as a group to grow bold to God. This is my first grow-group-participation in 2015 and I've learned a lot. Before we go on the "cupcake thing", I would like to tell you, readers that I am a lost sheep. My last two years were the most tough years I have encountered so far. All tragedies happened. Like my relationships with my family got worse and eventually because of me being hard-headed, they freed me (in a way that I could feel I am no longer necessary to that family). And so, all my time, attention and everything was poured to the man I'm living with nowadays. I guess you're seeing in your head what major event had happened, huh? Yes, we lived together without the blessing of our parents and church -- without marriage. And eventually this mortal sin we've committed lead us to a brand new life --- I have conceived. At a young age of course I am afraid. I don't know how to be a mom yet. I'm not prepared. My heart was broken but I can't get mad to God because I knew it was our fault. I gave my family and my man's family a terrible moment in their lives (well, including the church). We were not married then because of some misunderstanding and maybe, because we are not yet ready for it. As we grow together as couple and as parent. I thank God for all the blessings, especially the acceptance and forgiveness from our family, church and of course of God. We, at a slow pace, continuously explore this new journey. Alright, after that... We are never seen in church. We have been lost. And this year, 2015, I wanted to go back to where we are when we were burning in faith - for our family's sake. My man, who has changed his lifestyle, priorities and values (I know) cannot go back as easily and as willing as I do. And I do not want to force him. He has been (reasonably) so good to me, in treating me as his son's mom and as his partner and so I don't want to give him a hard time. I will pray unto God that He will blessed my man's heart with a passion of becoming a true servant of Him (again). My man was good man of faith and a loving partner to me. And whatever it is that makes me happy, he will give me. Enough of that. I will now tell you what I have learned in :
Cupcake of womanhood
" And walk in love, as Christ also hath loved us, and hath given himself for us an offering and a sacrifice to God for a sweetsmelling savour. " Ephesians 5:2
When we started our discussion, we were asked "What do you like most in cupcakes?" And, we (similarly) answered, " Icing, frosting, color, smell, taste and decoration " Then, before we start, we prayed.
What kind of cupcake are you?
Think of your favorite cupcake. What makes you love it so much? Is it appealing to the eyes? It should be. And most importantly, is it beautiful from the inside, too? As a new mom, we are battling what should I do and what should I become. They're saying I should have been more mature from now for the sake of my son. But, wait! Before you throw your words and judge me like a melting icing on top of a cupcake, am I not shocked for this? We all know this happened so soon that up to now I am still adjusting. Of course, I wanna be a good mom and I wanna bring the best "woman" out of me. And so, let me tell you... I have realized that life isn't just dancing with the wind and moving on without really planning. I have yet discovered the ingredients to a sweetsmelling savour. Here are things we need to improve well as so we can be " the woman of our generation "
Things to pond on :
* Are you appealing to the eyes of others that made them inspire you?
* Are you confident that you're precious and beautiful?
* Are you pleasing around?
* As a woman of faith, are you showing God's love to others?
Just like cupcakes, we are decorated in a special way as to the satisfaction of our Creator. What makes you charming? Is it your fashion, make-up and hair? Or do you have more friends because you are a beautiful soul? Most moms don't have time for make up because their set of values are focused on their family. Yet a mom's true beauty is what the people love about her. It's of course important to dress up, but thy beauty will soon wither and what will remain is the reflection of your personality.
We can say what the cupcake's flavor is by its aroma ; You can say a girl became a lady by the choice of her perfume.
How does your smell attract others? Are you sweet-smelling or do you have a stinky spirit?
Literally speaking, our scent can determine our personality. We choose what perfume to use depending on our taste. On the other way around, a true woman (godly) has a pleasing aroma shown through LOVE.
A mom is naturally sweet and approachable to her child. She rebukes her son with love, speak to her husband with gentleness and she opens her mouth to wisdom. However, a woman can be so talkative at times and may misuse her language, especially when emotionally-down. As a woman of faith, how do you control your tongue to state only words that are helpful to others? Do you speak faithfully and love others?
Words are great reflection of our heart. Whatever comes out of the mouth are conceived in the heart first.
Change the way you think, change the way you speak.
I have learned that every girl/woman should be approachable to be able to share kindness and love. We should be polite and our words shouldn't be rude. Now that I have a son, I wanna make sure that what he will hear from us, especially me are positive thoughts and sweet approach to life's bitter challenges.
This is the most exciting part in cupcake. As the baker intends it to look unique, we may not be able to know its flavor unless we eat it, right?
We may put many ingredients to the batter,eggs, milk, vanilla, sugar, cream and so on, but without salt, the cake is bland.
A woman has its own natural flavor. But just like food, we need salt to enhance that flavor. What makes you tastier being a lady? Is it your appearance? your clothing? make up? Above all these, you are more flavorful if you have a rich attitude in you. Cultivate a great attitude by creating a rich mindset.
This is the result of how you prepare the batter and if the cake is cooked well. Too much moist in the cake can make it so soft, less moist makes it hard and rough. The balance of the cupcake's texture is one of the things that makes it delicious.
Moist is our strength. Too much problem may cause us weakness and can result to a soft-hearted attitude. Too much of it may cause us numbness. Just like cupcake, we need a balanced heart.
A woman is most likely emotional. But a real woman is wisely strong. She knows how to face life with gratitude, love and faith. She knows how to fight. And she is courageous to live life to the fullest despite all the trials.
She is a woman of faith.
Is your cupcake easy to eat/swallow? Is it satisfying?
A cupcake may be old or stale if it's hard to eat, right? We can determine which is freshly baked to what is not by its texture. Also, stale cake may have bacteria on it and its no longer good in quality.
Are you easy-to-be-with?
Our social life can show the roughness or the good attitude within us. A child copies his mom, right? How do we tell our kids to be nice to others? by showing them and by treating them nice.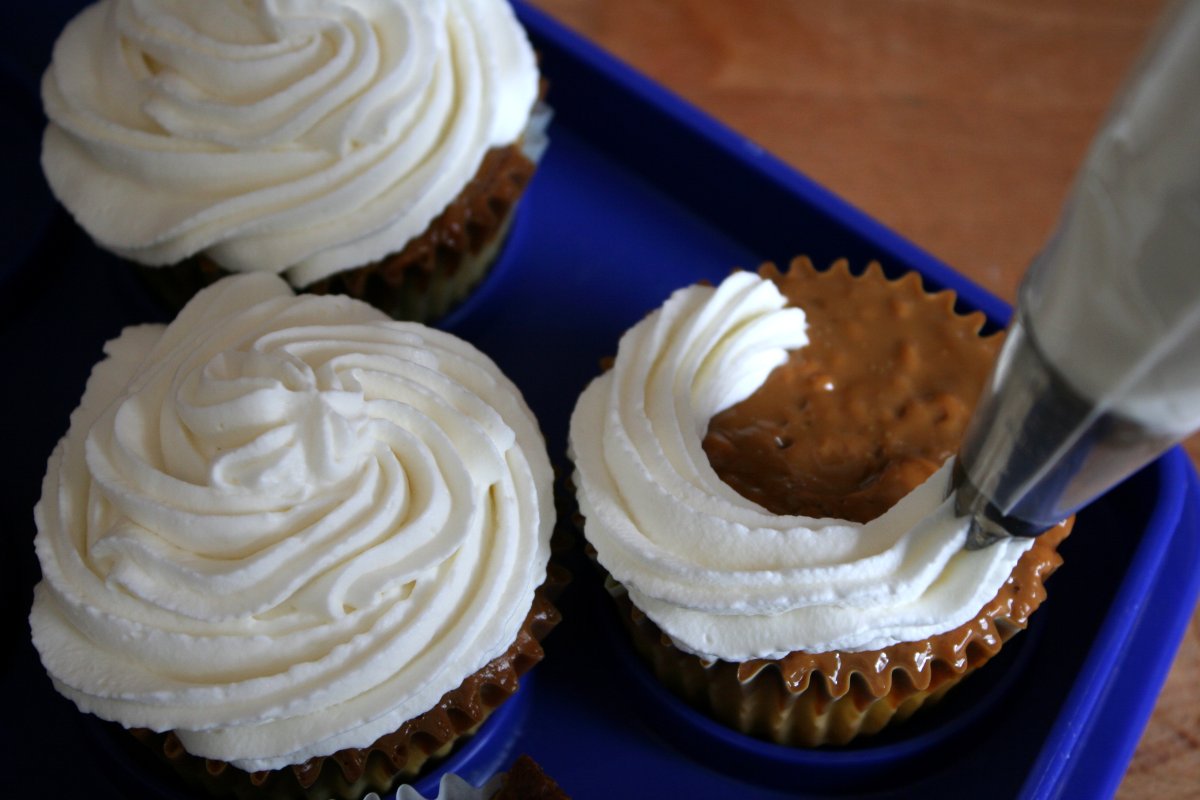 Hmmm, I bet that's the first thing you're looking in a cupcake right? The swirls, the sprinkles and color! It's like the cupcake's crown as to us it represents self-control.
As it may look easy, putting icing on top of your cupcake requires, patience, calmness, determination and will power. Plus, for it not to look over-decorated, icing must coordinate with your add-ons, like sprinkles or top-center decoration. The height of the icing must also be considered, for it may fall down (as a whole) if it's too much.
Just like a woman, we (of course) aim high goals, but still live humble. Does your icing appear to be beautiful and center-of-attraction? You should always wear your crown of self-control and live a balance life.
Many things may trigger us to explode, but a balanced woman knows how to take control and still shine!
There you have it, all the ingredients to a good-looking, sweet and delicious cupcake in YOU!
Read : Proverbs 31